On December 3, 2021, we held the 3rd exchange meeting of Kyoto Startup Support Angel Community at Kyoto Tokyu Hotel.


Participants consisted of angel advisors and speakers, as well as 51 people related to startups such as financial institutions and VCs in Kyoto prefecture, along with support organizations. It was also distributed online .
After the presentations and Q&A sessions, the information exchange session was held, where the speakers enthusiastically exchanged information with angel advisors and visitors at of the booth where the six start-ups introduced their companies and business plans.
The six start-up companies have highly appreciated the consistent support, and have expressed this with the following comments:
・We have had a problem in pricing since we considered the contents of our new business, but we got some good hints from the opinions of various people.
・I was introduced to a potential sales channel by a visitor, and we are planning an interview with him.
・I was asked the same questions that I had actually asked in advance in the mentoring session with PwC Kyoto Audit Corporation, therefore in this exchange meeting I could give suitable answers  which I had prepared enough in advance.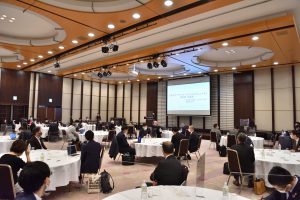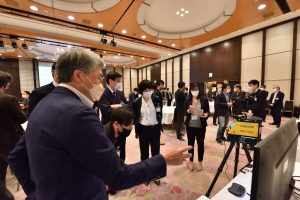 We will continue to make the Kyoto Startup Support Angel Community more meaningful so that we can promote the early growth of start-up companies.
Date and time

Friday, 3 December  2021, 15:00-18:30

Program

1. Welcome speech from the organizer

2. Pitches from startup companies, Q&A session
・Patrick Ocheja, Prospective entrepreneur
・Keiya Sakamoto, CEO, DeMiA Inc.
・Kentaro Yoshikawa, CEO, Famileaf Co., Ltd.
・Michitoshi Morimoto, Vice President, Culiarch Co., Ltd.
・Shoma Kuwari, Vice President/CFO,  SQRIE. Co., Ltd.
・Koushi Haku, CEO, DPS Inc.

3. Information Exchange Meeting

Venue

Kyoto Tokyu Hotel

Sponsor

Kyoto Prefecture, KYOTO Industrial Support Organization 21

Supported by

Kyoto Chiesangyo Sozonomori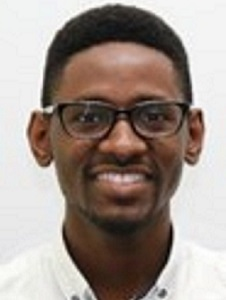 Prospective entrepreneurs Patrick Ocheja
"Ubuntu Hub," a blockchain-powered learning network that will transform lives.
As the coronavirus makes face-to-face learning difficult, many impoverished school-aged children in developing countries do not have access to the Internet at home and are unable to receive online education. Therefore, we have developed U-BOX, which uses WLAN and blockchain technology, to make the cost of connection cheaper, thereby realizing a society where even the poor can receive education.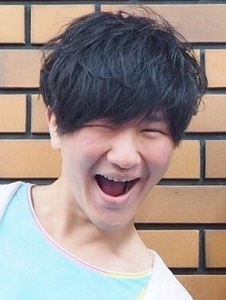 DeMiA Inc.
CEO Keiya Sakamoto
Practice-based platform for discharging university students' engineers through unique education system
DeMiA is an organization composed entirely of students from Kyoto University. Our goal is to develop unique educational content to solve the shortage of IT human resources and become a platform for mass exodus of engineers. To achieve this goal, we are developing a method that enables one-stop development that is applicable to society by reflecting the latest knowledge at high speed through a series of updates for each generation and by providing numerous opportunities for practice.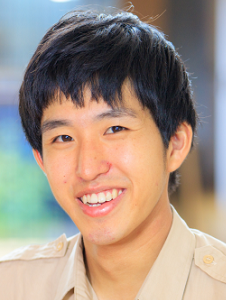 Famileaf Co., Ltd.
CEO Kentaro Yoshikawa
Comprehensive support for pregnant women with "hug+u," a physical condition management application
We are developing a physical condition and lifestyle management service specifically for perinatal women. In recent years, the number of high-risk pregnant women has been increasing due to more women becoming pregnant at a later age, and it has become essential to manage their physical condition at home between antenatal checkups. This service aims to support a safe pregnancy for everyone, regardless of age or medical history, by providing physical condition management specifically for pregnant women.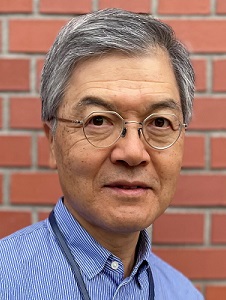 Culiarch Co., Ltd.
Vice President Michitoshi Morimoto
The world's first ultra-high quality 360-degree VR camera system opens up a new world
Culiarch has developed an ultra-high-quality 360-degree VR camera capable of automatically capturing high-resolution panoramic images of 50K to 200K by combining a proprietary automated multi-axis stage mechanism with a commercially available high-performance camera. Centered on this camera, we possess consistent technology from input to output (shooting, production, storage, and display) of high quality VR contents. Ultra-high quality VR contents are not only used for sightseeing contents to introduce cultural assets such as temples, but are also being utilized in new medical and industrial fields.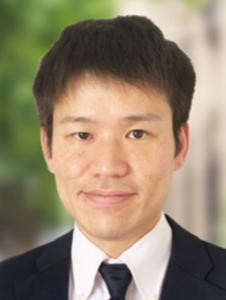 SQRIE. Co., Ltd.
Vice President/CFO Shoma Kuwari
An online dental practice platform using mirrors that allow users to take pictures of their mouths with their smartphones.
SQRIE is a Dental Tech Company that aims to DX dentistry with multiple hardware patents.
As our first business, we are developing an online dental clinic platform using our original patented "mirror that can take pictures of the inside of the mouth with a smartphone". We will support the "oral health" of those who cannot or do not have time to go to the dentist, and contribute to extending healthy life expectancy and reducing medical and nursing care costs.
DPS Inc.
CEO Koushi Haku
Enables recovery of trace amounts of palladium in wastewater and effluents, making them valuable.
Our DualPore™ is a new material (patented) with a special three-dimensional structure that can effectively adsorb, separate, and recover trace metals and substances.
By using it as an adsorbent, residual precious metals that have been missed by conventional technologies can be easily recovered by simply passing the liquid through an adsorbent-filled cartridge.
By recovering palladium, which is used in the manufacture of electronic and semiconductor products in large quantities and is currently discarded, and making it valuable, we can reduce costs, reuse resources, and contribute to the SDGs.