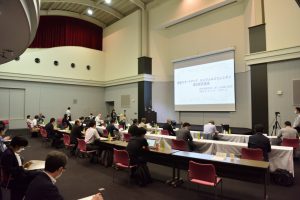 On August 4, 2021, we held the 2nd exchange meeting of Kyoto Startup Support Angel Community.
This time we increased the number of participants at the venue, and in addition to Angel advisors and companies on stage, 45 people related to startups such as financial institutions and VCs in Kyoto prefecture, along with support organizations, also participated. At the same time, 30 people viewed the event online.
Six promising start-up companies from Kyoto Prefecture took the stage and pitched the following:
・ Financing for prototype developments
・ Cooperation in demonstration experiments
・ Search for business partners
・ Recruitment of necessary human resources
In order to brush up the content of the presentation this time as well, these companies received mentoring from PwC Kyoto Audit Corporation in advance.
Also, to deepen the understanding of the business plan of the companies on the stage, the presentation and Q & A session was longer than previous times, and each company had 20 minutes. However, we found that the Q&A was still insufficient, and more questions and opinions were actively exchanged at the information exchange meeting after that.
As a new approach this time, we asked start-up companies who already had products and prototypes to exhibit their products at the information exchange meeting. By actually showing the products and prototypes to the participants and having them try them out on the spot, the companies were able to generate great interest.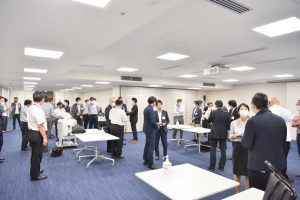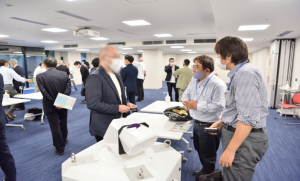 The companies that the Angel advisors and visitors are interested in will hold presentations, demonstrations, and individual meetings at a later date, and we are currently adjusting the schedule. We will continue to make the Kyoto Startup Support Angel Community more meaningful so that we can promote the early growth of start-up companies.
Date and time

Wednesday, 4 August 2021, 15:00 – 18:20

Program

1. Welcome speech from the organizer

2. Pitches from startup companies, Q&A session

•Hideki Nakata, CEO, Wind Simulation

•Hirofumi Taki, CEO, MaRI Co., Ltd.

•Daiki Takegawa, COO, emol Inc.

•Hiroki Horiike, CEO, 80&Company Inc.

•Makoto Masuda, CEO, Blueoptech Co., Ltd.

•Junichi Furumoto, CEO, Metro Weather Co., Ltd.

3. Information Exchange Meeting

Venue

Kyoto Research Park

(90-94, Chudoji Awatacho, Shimogyo Ward, Kyoto City, Kyoto Prefecture)

Sponsor

Kyoto Prefecture, KYOTO Industrial Support Organization 21

Supported by

Kyoto Chiesangyo Sozonomori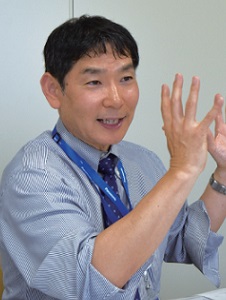 Wind Simulation
CEO Hideki Nakata
Development of a proto model of a "vertical wind turbine with angle of attack and blade diameter control" that is highly efficient and can respond to storms
We believe that the spread of small wind turbines will be a major factor in the realization of decarbonization in the future. To achieve this, ensuring efficiency, cost, and safety is essential. We have devised a new method that eliminates the conventional problems by always controlling the angle of attack and blade diameter to the optimum according to the wind speed and the operating condition of the equipment, and have continued the basic study for demonstration purposes. We would like to spread this method to the world and make it a standard form in the future by producing a prototype model and verifying its effectiveness.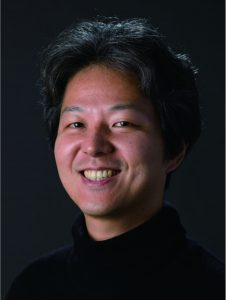 MaRI Co., Ltd.
CEO Hirofumi Taki
Contactless solutions to sleep problems in the world
We are developing "non-contact" technology to gently solve various problems that occur in the body during sleep, without burdening us. With consideration for privacy, we have developed and launched, in collaboration with Kyoto University, a millimeter-wave radar biometric information sensor that can measure the respiratory state during sleep with medical-level accuracy. We are also developing a non-contact sleep apnea syndrome treatment device that can detect hypopnea and apnea during sleep in a non-contact manner and eliminate the apnea by emitting low-frequency sounds.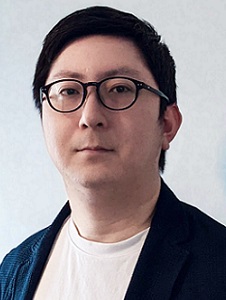 emol Inc.
COO Daiki Takegawa
AI mental health care in harmony with people's hearts
emol solves mental health issues through conversations with "AI" rather than "people" such as counselors. By chatting with the support AI "Roku", you can have simple counseling and discussions based on CBT (cognitive behavioral therapy) and ACT (acceptance and commitment therapy). It is also equipped with life log functions such as emotion recording and sleep time recording, providing total support for mental self-care.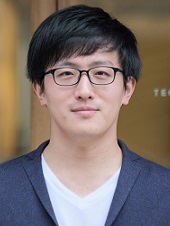 80&Company Inc.
President, CEO Hiroki Horiike
Practical unit for new business development through open innovation
80 & Company Inc. is a group of professionals who develop new businesses to promote open innovation in Japan with the slogan "Creating infinity from scratch". Aiming to create a sustainable world, we are working to solve social issues using technologies such as AI and data science in collaboration with research institutes such as companies and universities.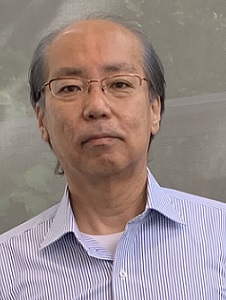 Blueoptech Co., Ltd.
CEO Makoto Masuda
Introduction of AR (Augmented Reality) products utilizing original optical technology
Our company philosophy is to change lifestyles with optical technology and propose new value creation to the market. This time, we have succeeded in developing a high-quality, compact, and inexpensive AR module by utilizing our unique optical technology. With this technology, we would like to propose to the market various systems that suit the times. Furthermore, we are working on the latest AR optical technology of the future without slowing down development, and we will expand the lineup of AR modules.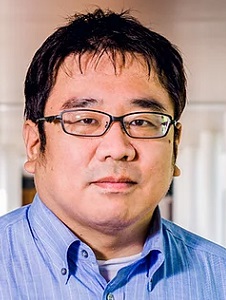 Metro Weather Co., Ltd.
CEO Junichi Furumoto
Solving social issues by utilizing wind observations through small, high-performance Doppler lidar
Metro Weather Co., Ltd., a venture from Kyoto University, develops and manufactures Doppler lidar that visualizes invisible atmospheric flow in real time. They are achieving innovative miniaturization and cost reduction while ensuring the same or better performance than other companies in the same industry, in addition to utilizing it as an infrastructure for grasping wind conditions in drone operation, urban disaster prevention, super city, and offshore. We are working to solve social issues by observing wind conditions in a wide range of industrial fields such as wind power.